Piccolo Strumenti a Corda is a collection of five sculptures: larger than life wooden replicas of two violins, a viola, a cello and a double bass. The instruments will be built to scale: the violins standing eleven feet tall, the viola thirteen, the cello measuring twenty-four feet long and the contrabass thirty. They will be displayed progressively, in various combinations (solo, duo, trio and quartet), at different exhibition venues, over the course of two years; culminating with a full orchestra presentation.

Each instrument will be lit around its contours to preserve the visual impact of a smaller object turned larger than life. Audiences turned participants will also be able to experience their dynamic strings; clear plastic encased LED lights synced with interactive laser harps. Interrupting the laser beams will prompt a change in color of the exterior lights and strings, and music to be played on internal speakers. Everyone is invited to play the instruments as they wish, either in cacophony or harmony.
Scheduled for Exhibition July 9-15, 2018 at Critical Northwest.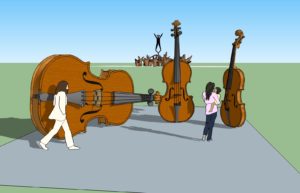 Piccolo Trio d'Archi